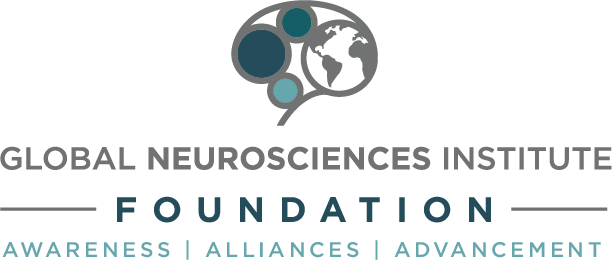 Our Mission
As a guardian of the Global Neurosciences Institute, the Global Neurosciences Institute Foundation exists to advance neurosciences through innovation, alliances, and research.
This advancement consists of a three pillar approach.
We are Advocates
We know that support group programs are an effective way to cope with the stresses, changes, and challenges of going through major life events. When someone suffers from a neurologic disorder, their life and that of those who love and care for them dramatically changes.
Support groups provide patients, their family, caregivers, and loved ones a space where they can talk freely about their challenges and issues without being judged.
Learn about GNI Foundation's Support Group Programs
Meet our Support Group Chairperson Kenneth Liebman, MD, FACS, FAANS
We are Educators
Education is instrumental to innovation at Global Neurosciences Institute.
Patient Education
We thrive to impart information to our patients about their own health status and needs. Education enables patients to improve their own health by sharing the latest in research, diagnostics, and treatments for neurologic conditions and procedures. Education can be therapeutic and enable patients to improve their own health with knowledge of the latest advancements.
Value of our Patient Education programs
Improved understanding of medical condition, diagnosis, disease, or disability.

Improved understanding of methods and means to manage multiple aspects of neuro health conditions.

Improved self-advocacy.
Continuing Medical Education
Education is essential for all healthcare providers. Practitioners can keep up to date with the latest treatments, research, and medical technologies with continuing medical education. At Global Neurosciences Institute, we believe the fields of medicine should never stop moving forward and making advancements, and neither should healthcare providers. 
Learn more about our CME programs, including our bi-monthly Grand Rounds. 
Training Center for Advanced Stroke Life Support Education
Every 40 seconds someone has a stroke, and stroke results in a death every 4 minutes. Stroke is a leading cause of death and the leading cause of disability. Emergency treatments to limit the risk of disability are available but must be administered within a brief window of time. It is vital that emergency medical services (EMS) personnel recognize, stabilize, and transport a stroke patient with a new sense of urgency and that medical centers handle these patients on an emergency basis that includes developing acute stroke teams and forming networks with other medical centers to enable rapid evaluation and treatment 24 hours a day, 7 days a week.
Advanced Stroke Life Support classes are a practical, hands-on, 8-hour courses
Advanced stroke care taught to EMS personnel, emergency medicine, and nurse education.

Provide a unique neurologic assessment tool-the MEND exam-ideal for both prehospital and hospital use.

Meet the education requirements for Joint Commission certified Stroke Centers.
We are Innovators
The Foundation forwards the groundbreaking research and development being conducted by Global Neurosciences Institute to ensure their improved, streamlined, team approach to neuro health, and serves as a conduit for relationships with the medical device, technology, and manufacturing sectors to make this exclusive care available worldwide.
Meet our Chief Research Officer Christina Maxwell, PhD, MTR
The Foundation focuses its financial resources where there are opportunities to care for more patients, invest in new technologies, and grow awareness of neuro health care and advancement.
We are Leaders in Neuro Health
Global Neurosciences Institute hosts an Annual Neurosciences Conference 'Innovating Neurosciences'. Our comprehensive program brings together regional and national experts to share the latest in research, diagnostics, and treatment for a diverse selection of neurological disorders.
Learn More About our Annual Neurosciences Conferences
With this focus, the Global Neurosciences Institute Foundation supports every touch point of neuro health from research and development, to diagnosis, to treatment, through survivorship.
It's comprehensive, forward thinking and life changing.