The Center for Neurosciences at Robert Wood Johnson University Hospital Hamilton

Experience a patient-centered approach to groundbreaking therapies and new surgical techniques with The Center for Neurosciences at Robert Wood Johnson University Hospital (RWJUH) Hamilton.
The innovative team of neurosurgeons, subspecialty neurologists, and neuroscience researchers of Global Neurosciences Institute (GNI), coupled with the specialty-trained nurses, therapists, and other allied health professionals at RWJUH Hamilton, work together to provide a world-class, integrative, multidisciplinary approach to complete patient care.
Neurosurgery
Our skilled endovascular, spine and tumor neurosurgeons offer a full range of conventional and minimally-invasive surgical treatment options for diseases and conditions of the brain and spine.
Neurology
Our fellowship-trained neurologists represent a diverse range of subspecialties to provide patients with access to the latest procedures and most advanced technologies, treating a variety of neurological conditions.
Conditions We Treat
Hearing and Balance Disorders
Cognitive Disorders such as Alzheimer's Disease
Vascular Disorders

Arteriovenous Malformations (AVM's)
Hemorrhagic Stroke
Brain Aneurysm
Carotid Stenosis

• Brain and Spine Trauma
• Tumor

Brain
Pituitary
Spine
Skull base

Acute and Chronic Disease Management

Multiple Sclerosis
Epilepsy
Parkinson's Disease and Movement Disorders

Pain

Spinal Stimulator Implantation
Trigeminal Neuralgia
Specialty programs
RWJUH Hamilton offers specialty care in the diagnosis and treatment of:
Normal Pressure Hydrocephalus
Balance Disorders
Movement Disorders
Evaluating and diagnosing conditions affecting the brain, spine, and nervous system is complex. RWJUH Hamilton utilizes the latest in advanced imaging and technology to diagnose and treat each patient's condition. This includes:
Computed Tomography (CT)
Computed Tomography Angiography (CTA)
Computed Tomography Perfusion (CTP)
Electroencephalogram (EEG)
Electromyography (EMG)
Magnetic Resonance Imaging (MRI)
Magnetic Resonance Angiography (MRA)
Magnetic Resonance Venography (MRV)

For more information about The Center for Neuroscience at RWJUH Hamilton, call 888-724-7123.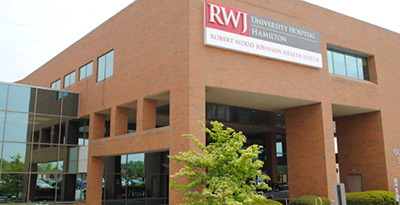 Robert Wood Johnson University Hospital Hamilton
1 Hamilton Health Place
Hamilton Township, NJ 08690